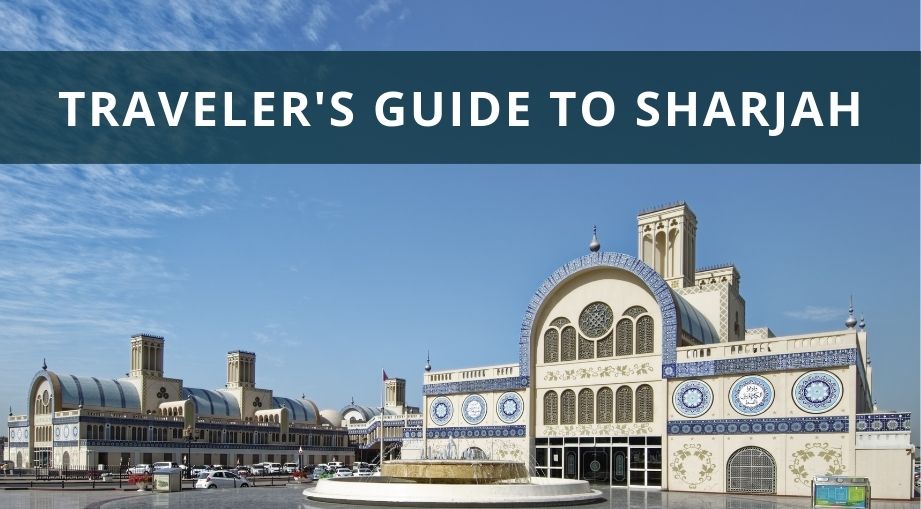 UAE is often found on the bucket list of travelers from around the globe. After all, not many places in the Middle East can give you such an exciting blend of modernity and the fabled Arabic charm of yesteryears.
Now, when we think of UAE, we often think of cities like Dubai and Abu Dhabi. But there is more to Dubai than just these few places. If you are a true traveler at heart, then you must explore these areas as they would surely surprise you with the experiences they offer.
One such place is Sharjah. Like Dubai and Abu Dhabi, it is one of the seven emirates of the United Arab Emirates. Let us take a look at some of the things that every traveler should know when coming to Sharjah.
Arriving at Sharjah
There are two ways of reaching the city – you can either fly directly to the Sharjah airport, or you can travel from Dubai by road. Let us take a look at both of these ways.
Sharjah International Airport
Sharjah International Airport is about 8 miles away from the main city. Although it handles much less air traffic than Dubai or Abu Dhabi, it does get flights from all over the world. The airport does get busy at times, but since it only has 1 terminal, navigating the airport is not much of a hassle.
Here is the layout of the airport
(Image courtesy: Sharjah International Airport)
As you can see, the main connecting road is the E88 or the Al-Dhaid Road. It leads straight to the heart of Sharjah.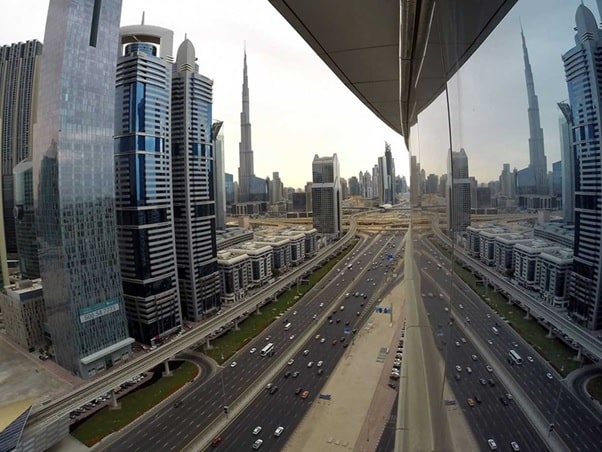 Traveling to Sharjah by Road
If you are in Dubai then you can easily travel to Sharjah by road. The cities border on each other and it hardly takes a few minutes to reach Sharjah from Deira or Dubai Airport.
The main road that connects the two cities is the E11. Be advised, the traffic gets quite heavy during the office hours (6 AM to 9 AM in the morning & 6 PM TO 9 PM in the evening. All times are local time).
There are many car rental companies in both Dubai and Sharjah that would help you to make such a journey in a comfortable way. You can rent a car in Sharjah and set the pick-up spot in Dubai. Since the cities are just a few kilometers apart, most companies would happily arrange that.
Hotels in Sharjah
Sharjah has a good number of hotels for every budget. Most of the hotels are located in areas like Al-Qasimia, Al-Nahda, Rolla Square Park, and the surrounding neighborhoods.
Please note that HOSTELS ARE ILLEGAL IN UAE. So, if you are looking for cheap accommodation and someone suggests a place that sounds like a hostel, stay away from it. If you want to save on hotel prices, then travel during the end of summer as the tariffs remain low.
Places to Visit in Sharjah
Sharjah has a number of places that you can visit. Each place would give you a different experience. So, whether you are traveling with your family or friends, or just exploring alone, here are some of the places whether you should try out.
1: Sharjah Aquarium
You can start your tour with the Sharjah Aquarium. This humongous place has 20 large tanks that houses more than 250 marine species from the Persian Gulf as well as from seas all over the world. Kids and adults would spend hours gazing in amazement at the beauty of marine life.
Ticket Prices:
Adults (13+ years): 25 AED
Children (under 2 years): Free
Children (2-12 years): 15 AED
Family (2 Adults and 3 Children): AED 70
Children group (2-12 years) – "6 or more": 10 AED each
Adult group (13+ years) – "6 or more": 15 AED each
Timings:
Saturday to Thursday: 8:00 AM – 8:00 PM,
Friday: 4:00 PM – 10:00 PM,
Sunday: Closed
2: Blue Souk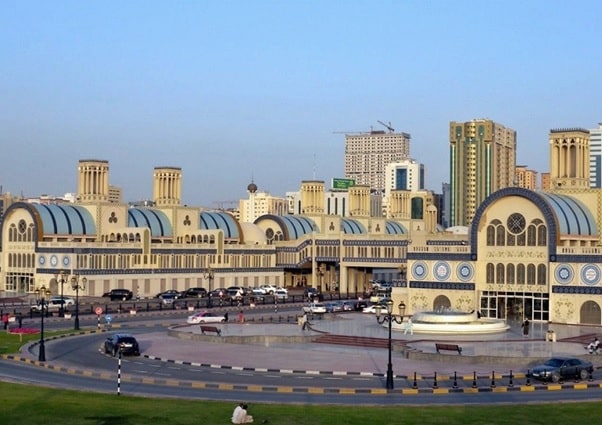 The Blue Souk, also known as the Central Souk or Souk al-Markazi, is one of the biggest markets in Sharjah. The best part about this place is that you can get the taste of an authentic Arabic souk. If you are looking to buy a souvenir, then this is the right place to do it. And, it's heaven for people who like a good bargain!
Entry Fee:
Free
Timings:
Saturday to Thursday: 9:00 AM – 1:00 PM and 4:00 PM – 11:00 PM
Friday: 9:00 AM to noon and 4:00 PM – 11:00 PM
3: Al-Majaz Waterfront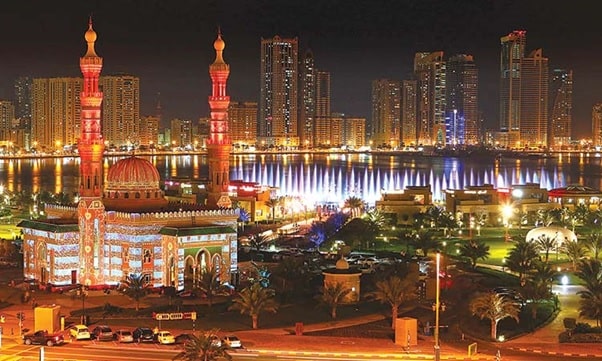 Al-Majaz Waterfront is the perfect getaway for families in Sharjah. At the same point, they offer plenty of experiences to foreigners as well. Apart from activities like miniature golf to fine dining, Al Majaz Waterfront also hosts various concerts, events, and festivals at different times throughout the year. Don't miss the Sharjah Musical Fountain, which would surely be a memorable experience.
Entry Fee:
Entry to the waterfront as well as the use of most of the public facilities is free. The splash park costs AED 25 per child per day.
Timings:
Its open 24 hours
Traveling Around Sharjah
Here are some of the ways in which you can travel around Sharjah.
Taxis
Taxis are metered and you can flag them down or book them by phone (600 52 52 52). Trips within Sharjah usually cost in the range of AED 12 to AED 50. You would need to pay an extra charge of AED 50 for if your journeys start from Sharjah International Airport or if you are traveling to and from Dubai.
Ride-hailing services
Two of the most popular ride hailing services in Sharjah are Uber (www.uber.com) and Careem (www.careem.com).
Buses
Mowasalat (www.mowasalat.ae) operates nine bus routes around Sharjah city. A single fare costs AED 6. You can pay using cash or a Sayer smart card, which be you can buy on the bus itself.
Car Rental in Sharjah
If you are looking to travel on your own terms, then you need to rent a car in Sharjah. You can find international brands as well as reliable local companies like Quick Drive (quickdrive.ae) to rent anything from a small hatchback to luxury sedans and SUVs.
Things to Keep in Mind
Sharjah has its own culture and as a responsible traveler, you should respect local customs and laws. Here are some of the things that you should keep in mind.
CONSUMPTION OF ALCOHOL IS BANNED. You would not get any bars or restaurants that serve liquor. It is also illegal to buy alcohol in Dubai and consume it in Sharjah.
NO SHOW OF AFFECTION IN PUBLIC. This applies to the entire UAE. However, Dubai might be lenient on it. But, Sharjah follows it strictly. So, refrain from kissing, hugging, etc.
You are expected to dress modestly. In public places, you might not be allowed to wear revealing clothes or apparel like tank tops, bikinis, & flip flops
Tipping is not mandatory. This might be surprising for people from the United States. You can tip, and there is no set formula for it.
These were some of the things when you are traveling to Sharjah. Plan things your way and you would surely get memories that would last a lifetime.
Keep the Travel Spirit High 😉🤘