1: Rishikesh
Rishikesh is known to be a paradise for this adventure enthusiast generation and a traveler with its budget-friendly destination. The vast options to choose from and the pleasant atmosphere of the hill station is what make Rishikesh such a hit among tourists.
River rafting or what we call "White water rafting" in Rishikesh is the most talked-about adventure sport in the pious and pure white river of the Ganges. Paddle your boat through the high and low of tides and enjoy the thrill with your family and friends.
Grab a certificate for your bravery after trying out bungee jumping at Mohan Chatti situated in Rishikesh from a height of 83 meters. You can appreciate the beauty of the valleys and flowing rivers from activities like flying fox, zip lining, and hot air balloons.
Rishikesh offers every kind of activity which your mind can conjure up like trekking, camping, water Rappelling, Kayaking, giant swings, mountain biking, Paragliding, and many more. You just have to name it and Rishikesh will offer it.
2: Jaisalmer
Jaisalmer gives you a rich experience of its very own 'Arabian nights' style extravaganza. Famously known as 'The Golden City' by the tourists gives you a taste of culture and heritage with its Rajwadi Haveli's and Grand architecture all basked golden under the sunlight.
This is one of the few places that makes fairy tales come alive with its grandeur and the expansive Thar Desert. The ever-changing sand dunes of the Thar Desert look lively on the enthralling Desert Jeep Safari. Stay in a luxurious tent, get a Camel safari and watch the artist perform folk music and dance followed by Rajasthani cuisine. Staying the night in the Desert with sand dunes and starry sky is once in a lifetime kind of opportunity.
You can even take up the activities like parasailing and paramotoring in Kanoi to get a glimpse of the beautiful desert from up above the sky, especially at sunset. You can even try Quad biking or dune bashing in the Thar desert to pump up your adrenaline.
3: Goa
Goa is one of the lively places that every youth plans to visit at least once in their life. Goa, even though it is the smallest state of India, gives you ample things to choose from and fulfill everyone's wishes. The explorer can go to the ruins of St. Augustine Church and many other forts.
To get to know the history and culture of the place head towards the churches of Goa. If you are a nature lover then pick a beach from more than 70 beaches the coastline of Goa is dotted with. The foodie in you can indulge in the delicious seafood and Konkani cuisines that are popular among locals. The hippies can look forward to the nightlife of Goa that comes alive at midnight with trance and beachside parties.
For that one friend who is always hype about adventure activities can take part in scuba diving, Kayaking, snorkeling, paragliding, and many other water sports that are famous on Bat Island.
4: Pondicherry
If you are planning for a 'girl's trip' then Pondicherry has got you covered with some beautiful places to spend time with your ladies. Visit some of the unexplored beaches of the city with mesmerizing sunsets and beachside promenades. Watch out for the orange-pink horizon melting into the Bay of Bengal during sunrise. You can enjoy boating at the very famous Paradise Beach and get a chance to spot some cute Dolphins. The manmade lake of Osudu is known for bird watching and its picturesque surroundings.
Challenge yourself with scuba diving among the coral reefs and explore the sea life with so many colorful marine organisms like kingfish, lionfish, eagle, parrotfish, sea snakes, triggerfish, and many more.
Touring the city on a vintage bicycle is a must when on a trip to Pondicherry with its French-style colonial settlement. You will cover green quarters, French architecture, Tamil-style houses, traditional and historical hotspots. While on the ride don't forget to take a bite of South-Indian delicacies of Idli and Medu Vada.
5: Ladakh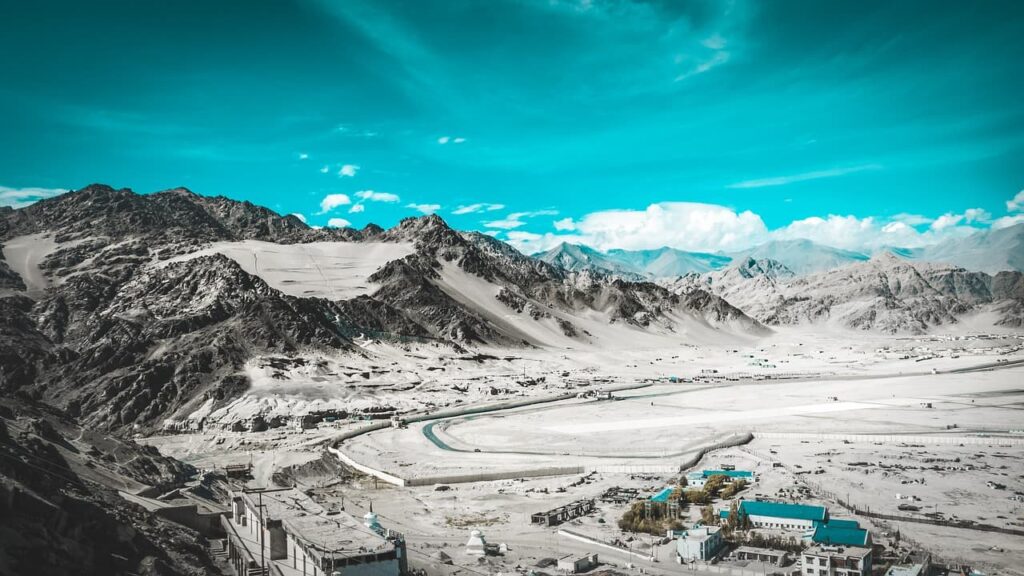 Ladakh weaves many dreams of travelers for road trips among the scenic landscapes. Ladakh is adorned with the best of valleys and high altitude passes which marks the highest motorable roads in the world. The culture of mountain people and its scenic beauty is one of the prime reasons that attracts tourists from all over the world.
The famous lake of Pangong Tso and the adventurous Nubra Valley will leave you stunned for a moment. You can take up a thrilling trek in the arid cold desert of Ladakh which gives you a view of the colorful Spiti valley or spend a night camping in Lamayuru for the cosmic experience of stargazing.
Have a visit to some of the famous Monasteries and closely watch the culture of Buddhist monks with one of the biggest festivals of Hemis. If you are an avid wildlife photographer then going on a hunt for the Snow leopard on the higher altitude trek is a dream come true. The daredevils can take upon the Chadar Trek, which even the documentaries boast of as one of the unique trekking trails in Ladakh with frozen waterfalls.
6: Andaman Island
The Andaman Islands with its unpolluted environment and series of water sports is a perfect go-to destination for any nature lover and adventure seeker. The sunny beaches with crystal white sand, clear blue water, and 572 islands call for a relaxing getaway. Staying at a resort or sailing on a cruise is the definition of a fun-filled vacation.
You can go for Sea-Kart which is a self-driving boat and give you a chance to explore the surroundings with your loved ones alone. The fun fact about sea-karting is that it is only available at a total of 3 places in the world! Snorkeling and Scuba diving is popular water sport that gives you an insight into the rich aquatic life of the Andaman Islands.
Experience the stars under your feet at Havelock Island Beach where the Bioluminescence phytoplankton lights up the water at night. Experience some of the exceptional thrills like banana boat ride, glass-bottom boat ride, and swimming with an elephant. Yes, you heard that right.
7: Meghalaya
Meghalaya with its unmatched beauty among the clouds and dark green environment still remains unexplored by the tourists in the northeast. Shillong in Meghalaya is often called the 'Scotland of India' with its un par beauty and pure natural aura. Cherrapunji, which is deemed to receive the highest rainfall, is the wettest place in the world. This makes Cherrapunji a hubbub of waterfalls and dense green forests.
Nohkalikai Waterfall plunging down from the wild at a height of 1115 feet is India's tallest plunge fall. Visit the Mawlynnong village for the cleanest village in Asia and a panoramic view of the landscapes. Apart from this village, you will find the pristine and clean river channels in Dawki Town.
The entire place looks surreal with its pollution-free emerald water that sometimes you can even see through till its riverbed. Explore the caves like Mawsmai or Suji which are said to be the longest caves in India. In fact, the stats say that 9 out of 10 longest caves of India are in Meghalaya. 
8: Sikkim
All things white and picture capture-worthy is how I would like to describe Sikkim. The famous trek of Sandakphu that takes you close to the daunting mountains such as Kanchenjunga blanketed in the snow is a must-do if you visit Sikkim. Camping in the snowfield and witnessing early sun rays on the glacier mountain peaks is truly an out worldly experience.
Stargazing at night in the star-studded sky is another thing you can do. The Singshore bridge gives you a chance to do bungee jumping from an exciting height of 200 meters. Another fun activity of Hang Gliding gives you an aerial view from a bird's point of view of the beautiful valleys and mountains. The calming aura of the Monastery in Sikkim is unmatched from any other place in the world.
You can visit the monastery of Pemayangtse, Enchey, and Rumtek. The unique wildlife of Sikkim is yet another attraction among tourists. The remarkable Khangchendzonga National Park houses rarities like Red Panda, Scarlet Finch, and Fire-tailed Myzornis. Have an exhilarating experience of riding a long-haired Yak near beautiful Tsomgo lake. The high-altitude lakes of Gurudongmar, Khecheopalri surrounded by snow-peak mountains adds sparkle to the whole visit.
9: Kerala
Whether you set for a fun-filled vacation or a relaxing get-away, Kerala never disappoints anyone. Activities range from therapeutic ayurvedic massages to paragliding in the hill towns of Kerala. The houseboat tour in the backwaters of Alleppey is a prominent tourist thing to do for enjoying the scenic beauty of the backwaters.
Similarly, every place in Kerala is famous for something or the other like Thekkady is known for bamboo rafting, Cherai beach is famous for Dolphin spotting, Water sports are best at Kovalam, snorkeling is specifically beautiful in Kochi.
Visit the Munnar for a pleasant view and try varied tea flavors. Kerala also offers many beaches where you can enjoy the clear waters of the Arabian Sea.
---
About Author: Shiza Ansari
Hello there! My name is Shiza Ansari, content writer at BanBanjara. I have done my Bachelor of Engineering at a Mumbai University affiliated College. The skillset section of my resume says I am a techie with a knack for creating content. Among other things, skating is another hobby of mine. I am still enthusiastically grabbing on any other skills that would make me a great writer.
With all the baby steps, one day I hope to make a big leap.
As Dan Brown said "Everything is possible. The impossible just takes longer"