Are you looking for a budget foreign travel destination and experience new places?
I know that traveling to a foreign destination is very expensive but this doesn't mean that you should give up on your dreams.
I have created a list of 6 countries you can travel from India without burning a hole in your pocket. So, without further adieu, let's get started:
1: NEPAL
Nepal is a very beautiful country and the best thing is, it's the neighbor of India so you don't have to go too far away. It has some amazing locations and sceneries that attract a lot of travelers from around the world.
If you are from India, you also don't have to apply for any visa to visit Nepal. You can go by plane, bus or by your own car or bike as well after taking some permission during the entry.
You can get a decent hotel or hostel for ₹1000 to ₹3000 per night to stay there depending on the facilities provided by them. You can visit the capital city Kathmandu where you will see a lot of temples or other cities like Pokhara where you can experience many adventure activities like sky diving and bungee jumping if you want to spend a little more.
You will also find many delightful food options like Nepali thali, famous Momo, as well as Chinese and Indian dishes. Although food is a little expensive there and you might have to pay a little more to satisfy your taste buds but certainly you can get some cheap ones if you explore a little more.
You have to pay ₹450 for transport by bus if you want to go from Kathmandu to Pokhara. You can also rent a bike or car if you love to ride by yourself. All you need is a valid Indian driving license.
2: VIETNAM
Vietnam is famous for its natural beauty, rich history, and unique heritage. If you are a backpacker and want to travel with your friends on a budget, then you will find a lot of options here to stay and explore.
Vietnam is very cheap especially for Indians as their currency rate is very low as compared to India. You have to pay ₹1000 or less a night if you take a good hostel to stay.
You can do a lot of activities like sightseeing, taking a local market tour, wildlife tours, island tours and much more. The more you spend the more you can explore Vietnam but every penny is worth the experience.
Hanoi and Ho Chi Minh are the two main cities every traveler must visit if they are visiting Vietnam. Food is also quite cheap and you can easily enjoy a 3-course meal in just ₹800 per person. As we know that Vietnam is a coastal country, you have a lot of seafood options.
Then comes the street food, which is the specialty of every country. You can have a different variety of street food which is a great option if you are on a budget trip as compared to a restaurant meal.
3: BHUTAN
Bhutan is known as the happiest country in the world. It is known for its peaceful environment and natural beauty. Also, Bhutan is very close to India so that makes it a budget travel destination for Indians and there are no visa requirements for Indians to visit Bhutan. You must carry either a valid passport with a 6-month validity or a voter ID card issued by the election commission of India.
You will find a decent hotel or homestay in ₹1500 to ₹2000 per day easily all over the country. Talking about the activities, you can take cultural tours, local sightseeing, Himalayan tour, adventure sports, and much more.
The places to visit in Bhutan include Thimphu, Punakha, Paro Valley, Wangdue Phodrang to name a few for the tourists. Food is amazing and you can easily spend ₹100 to ₹400 for a meal depending on the place you eat.
If you are planning for a week trip, it is advisable to hire a private taxi as that would be much cheaper and easy for you to wander around.
4: THAILAND
Thailand needs no introduction. We all know this country is full of energy and free lifestyle. You can get a cheap flight to Thailand from India very easily.
You get a Visa on arrival if you hold an Indian passport. Staying there is also not much expensive as you will find a hostel at approx. ₹800 per night and a hotel at ₹1200 to ₹1500 per night.
You can experience the amazing floating market, local shopping, elephant tourism, medical tourism. Bangkok, Pataaya, Phuket are among the top cities to visit in Thailand. If you want to spend a little more from the pocket then you can visit a couple of other places with a week or two weeks plan.
5: INDONESIA
Indonesia is a very budget-friendly destination for Indian Travelers. The flight is a little expensive to reach there, but you will get a Visa very easily. You can visit Bali, Jakarta, and many other cities apart from a lot of beautiful islands where you can explore and spend quality time within your budget.
You can get a hotel in Indonesia easily from ₹1000 to ₹2000 per night depending on the services. Hostels cost a little less if you do a little research before your trip. You can go for religious tours, water sports, cultural activities and volcano tours to create some crazy wander stories.
6: LAOS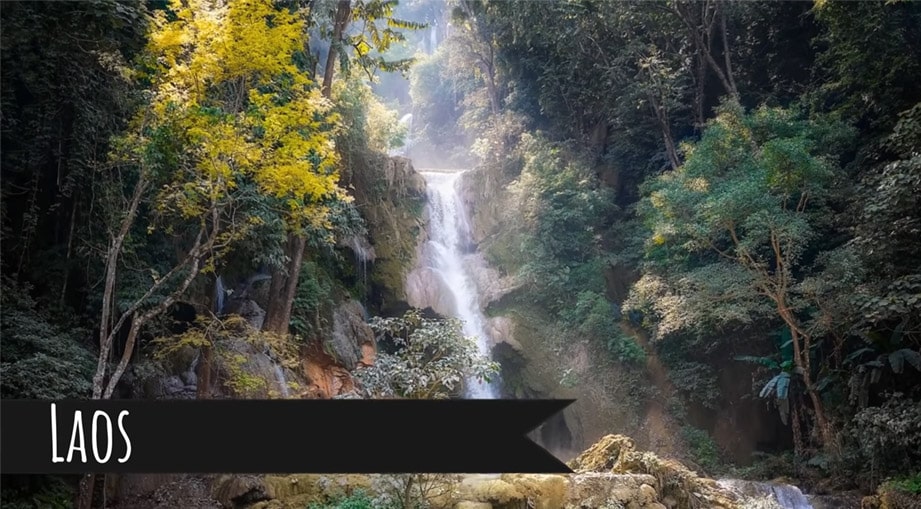 Laos is situated in south-east Asia. It is famous for its Buddhist monasteries, beautiful French architecture, and some amazing nature spots. The cost of staying in Laos is around ₹400 to ₹800 per night if you opt for hostels. If you take a hotel, it would cost a little above ₹1000. This is a decent amount for staying in a good hotel anywhere.
You can go for night market, heritage tour, cultural tour, temple tour and most adventurous is the bicycle tour when we talk about activities to do in Laos.
Luang Prabang, Vientiane, Vang Vieng, Thakhek are some of the places that receive most tourist footfall in the country. If you try local cuisines of Laos then you have to spend around ₹200 to ₹300 per meal. If you ask for some western food, that would cost you around ₹400 to ₹500.
Transport is also very convenient as you can easily catch an overnight bus to travel from one place to another with a ticket price of ₹1200 to ₹1500. If you hold an International driving license, you can also rent a bike by paying ₹200 to ₹300 INR and ride around to get a rich travel experience.
I hope you find this post informative and inspired you to pack your bags for a budget trip to a foreign country. Don't forget to share it with your travel buddies.
#KeepTraveling 😉