These days camping is part of modern time traveling. Most people prefer staying in the camp while they are on vacation, so here we are showing you the best of the camping sites to explore the best of nature.
This becomes more worth it when you get a chance to camp beside a lake to get the best scenic view during your camp.
It has always been a pleasure when you get to sit beside the lake. When you are full of stress and want to spend some time in peace, you find a place where you can only hear the wind blowing and a river flowing.
Yes, sitting beside some lake has been a pleasure, but now imagine what if you just got a chance to spend your vacation in such a location. I don't think so; no one wants to miss that chance.
A vacation near a lake is more fun when you get the chance to camp beside the lake. Pawna lake is one of the best places for you to spend your weekend off the city.
Table of Content:
Introduction to Pawna Lake, Maharashtra
Pawna lake is one of the popular campsites which is situated in Lonavala, Maharashtra. This place is always a pleasure for eyes where you get to adore the beautiful sunset in the evening, foliage environment, and beautiful lake beside you.
If you are a person who wants to explore flora and fauna, then this vacation near western ghats is a must for you. If you are a nature lover and like to capture the landscape with your lens, this place will be a treasure for you.
Here you will get the chance to spend a night under the starry sky. This place came to notice because of some tourist and historical spots near it, such as Tung fort, Tikona fort, Lohagad fort, and Visapur fort. These are some of the gems from Maharashtra tourism.
Moreover, you got a sight of Pavana dam and some beautiful mountains surrounding Pawna lake. The Pawna lake camping will be an astonishing feeling when you experience nature's symphony. Pawna lake is now also one of the most visited campsites as it attracts tourists to get a day off from the heat of their hectic and chaotic schedule.
If you want to escape reality and live some of the best moments of your life, then Pawna lake should be there on the top of your bucket list. Pawna looks no less than heaven during the monsoon season.
You also get to experience the colors of nature spreading all over the exterior during the beautiful sunset. The evening will become more colorful with the sunset when you enjoy the bonfire, live music, and barbeque dinner under the glittering sky.
The Best Time to Visit Pawna Lake
The best time to visit Pawna lake is during the monsoon months where pastures change into vivid green as rich agriculture farms surround the place. However, there are many more activities which you can enjoy during your vacation at Pawna lake.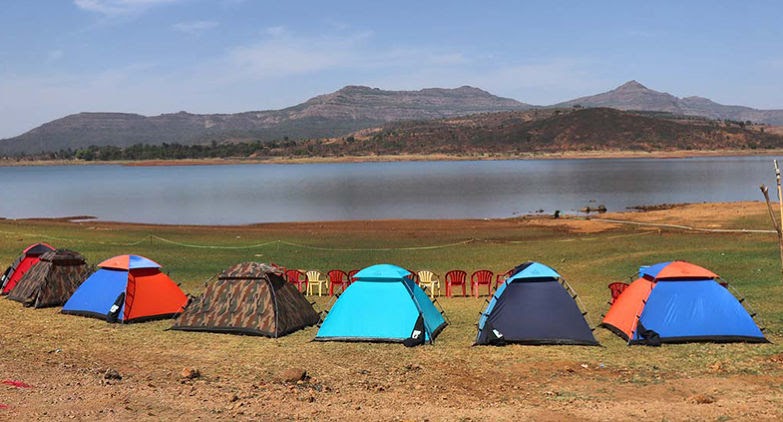 Activities to do at Pawna Lake
You can experience some thrilling activities if you are at Dudhiware waterfall, which only flows during the monsoon. People like to enjoy the beauty of this waterfall, where you can try water rappelling, valley crossing and zip lining. If you want to enjoy the water rappelling, you have to be lucky enough to find good monsoon rains.
Have you ever watched the sunset when you are flying over a lake? If not, then let me say you have to grab the opportunity of paragliding over the Pawna dam. This adventurous activity will always have a trace on your heart.
Trekking is something that no one wants to miss. Pawna lake offers this opportunity as well. Trek to the twin forts Lohagad and Visapur. These two forts are interconnected, but Visapur is at a higher altitude than Lohagad. These treks are not a problem for any tourists as they are easy treks to do at any time of the year.
Vitandgad fort, which is famous by the name of Tikona fort because of its triangular shape located in Mawal hill. This place is known for its huge doors, the Trimbakeshwar Mahadev temple, Satvahan caves and seven water tanks. Tikona place is renowned among trekkers for trekking at the height of 3500ft.
This is not easy because of its steep slope and curved stairs, but this trek becomes worth it after having an eye-captivating view of Pawna dam, Tung and Lohagd fort from the top.
Kayaking at Pawna lake brings out a lot of adventure, and it gives you a feeling of pleasure while kayaking in the lap of nature will be a hell of a lot of fun and a new experience.
You can also enjoy some games like cricket, bicycle ride, football and volleyball beside your camp in the tireless environment.
Things to Carry for Pawna Lake Camping
While camping, you have to carry certain things with you to help you enjoy your camp comfortably. It would be best if you carried extra pairs of clothes and comfortable footwear, sunglasses and sunscreen lotion to keep yourself protected from direct sun rays, a led torch or flashlight for the night, a first aid kit for any emergency, mosquito repeller as you will be camping beside a lake, camera to capture the beauty of mother nature and Banbanjara vouchers to enjoy some perks on tour.
How to Reach Pawna Lake Camping?
Reaching this beautiful place is not a task. Suppose you are joining the Pawna lake camp from Mumbai, and you are riding from your vehicle. In that case, you can direct report at the location, or else you can get a train to Lonavala and hire any private vehicle to Pawna camp, and if you are riding from Pune, then you have to make your way through Kamshet first you have to reach Kamshet then you can hire some private vehicle to reach one of the beautiful destinations from Maharashtra Tourism, Pawna Lake Camp.