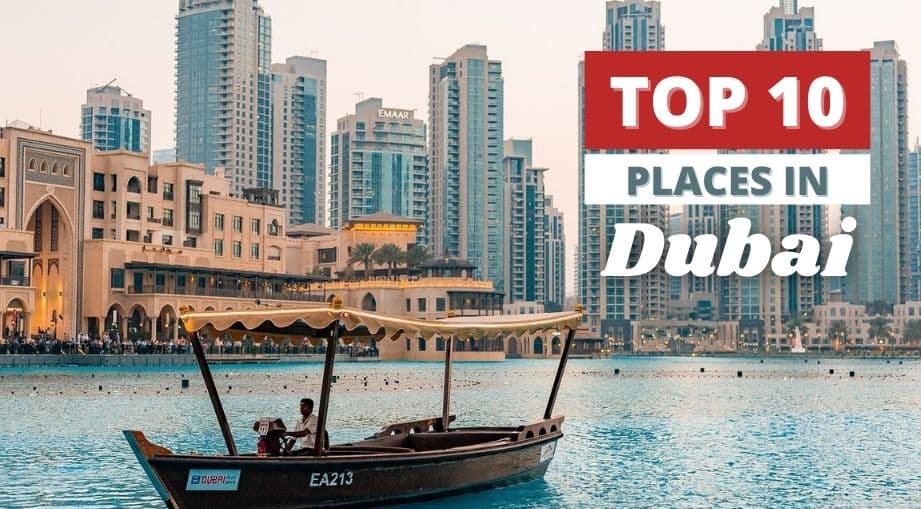 Dubai is a city filled with wonderful experiences. The emirate has stunned the world with its modern architecture and innovative attractions. Dubai, which has a proud history of culture and Bedouin heritage, offers a perfect balance of the contemporary and historic facets of Arabia, existing in harmony together.
If you visit Dubai, you will find a treasure trove of experiences waiting to be explored. However, a trip can seem quite overwhelming in terms of what to see and where to go.
Even so, some Dubai attractions are the best of the best and should not be missed on a vacation there. Here are our top ten recommendations on where to go on a Dubai vacation.
1: Burj Khalifa
The Burj Khalifa is an iconic masterpiece of modern Dubai. Definitely, the first to come to mind when thinking about attractions to visit in Dubai. The tallest standing structure in the world is a spectacle to behold.
Zoom to the 124th and 125th levels to enjoy the ' At the Top – Burj Khalifa' experience. The observatory level gives sweeping unrivaled panoramas of Dubai city and beyond. The evening view is especially spectacular with Dubai Fountain illuminated adjacent to the tower, creating a spellbinding visual experience.
The Burj Khalifa is the home to the highest restaurant in the world – Atmosphere. It offers the perfect way to enjoy good food while taking in the spectacular views of Dubai.
2: Ain Dubai
The recently unveiled Ain Dubai is boasted as the world's largest Ferris Wheel cum observatory wheel. It is set on Bluewaters Island, Ain Dubai. Located in such a way that it offers visitors gorgeous views of Dubai's coastline and modern city skyline.
You can take a tour of the spacious pods that give you views from different perspectives. The ride lasts for around 40 minutes. It is one of the best ways to slow down and enjoy the beauty of Dubai city.
3: Dubai Mall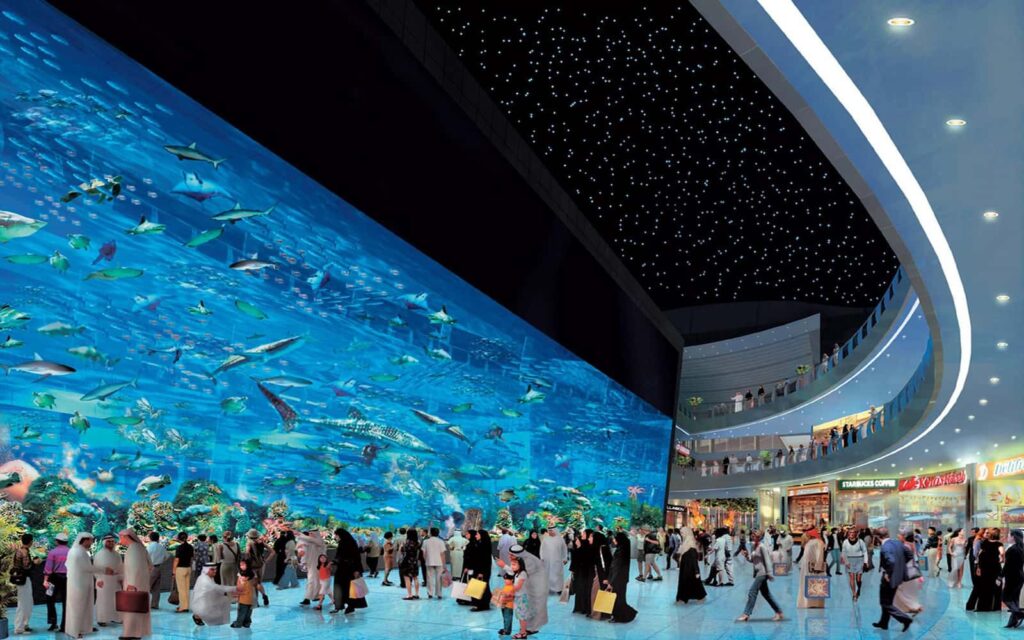 It has the reputation as the ultimate shopping destination for shopaholics. Dubai Mall provides the kind of extravagant shopping experience you have always dreamed about. This colossal mall has over 1200 shops and outlets that offer a variety of merchandise.
Not feeling the shopping spirit? No problem!
The mall is also home to some amazing recreational venues and food scenes. Check out Dubai Aquarium and Underwater world and VR Park – two utterly incredible realms to step away from reality for some moments. A fantastic option for kids is KidZania Dubai. It offers fun, entertainment, and even life lessons at its own pretend mini-city.
You will wind up famished with so much excitement, but there are some amazing food delights. You can satiate your taste buds with an assortment of delicious treats at its dining venues and food courts.
4: Dubai Souks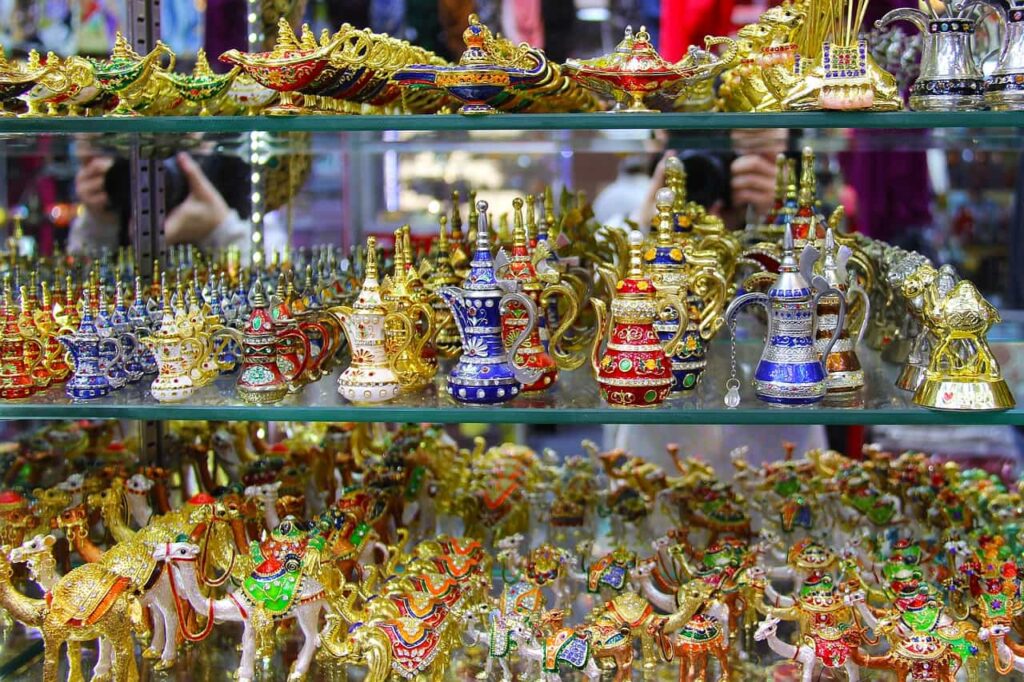 The area along the shores of Dubai Creek is a preserved remnant of Dubai's old-world charms. Step into the famous Dubai Souks and you find yourself in a bustling bazaar. It is filled with a riot of color, flavors, and aromas. The Gold Souk is bursting with alleys lined with gold shops. They show off some of the most outrageous collections of gold and semi-precious stone jewelry.
The spice souk and perfume souk showcase the rustic fragrances of the Middle East. The Dubai Souks still maintain the old ways of trading and stand so much apart from modern world shopping malls. If you are good at haggling, you can get some amazing souvenirs to carry back home with you at a steal.
5: IMG Worlds of Adventures
Dubai's theme parks are just as iconic and extravagant as its architectural landmarks. The IMG Worlds of Adventure is one such theme park that is fully airconditioned, indoor park with zones dedicated to MARVEL and Cartoon Network characters.
Attractions based on these characters offer exciting rides and shows that vary in thrills and adventures. The Lost Valley section takes you through a forgotten land peppered with animatronic dinosaurs and is also home to two hair-raising rollercoasters. The theme park as a whole is a great place to visit with family and children.
6: Dubai Frame
At Zabeel Park, you will come across a glistening colossal frame dominating the scenery. The Dubai Frame, tagged as the biggest frame in the world, might seem like just another extravagant architectural wonder but it is a place where you can journey through time and witness how this Arabian village transformed from a humble desert settlement into a grand modern metropolis and what it visions as a futuristic city.
The top beam is an observatory deck that offers unparalleled panoramas of the Old and New Dubai skyline. It is one of the top attractions to visit to take in the beauty of the city and also learn about Dubai's past, present, and future.
7: Dubai Miracle Garden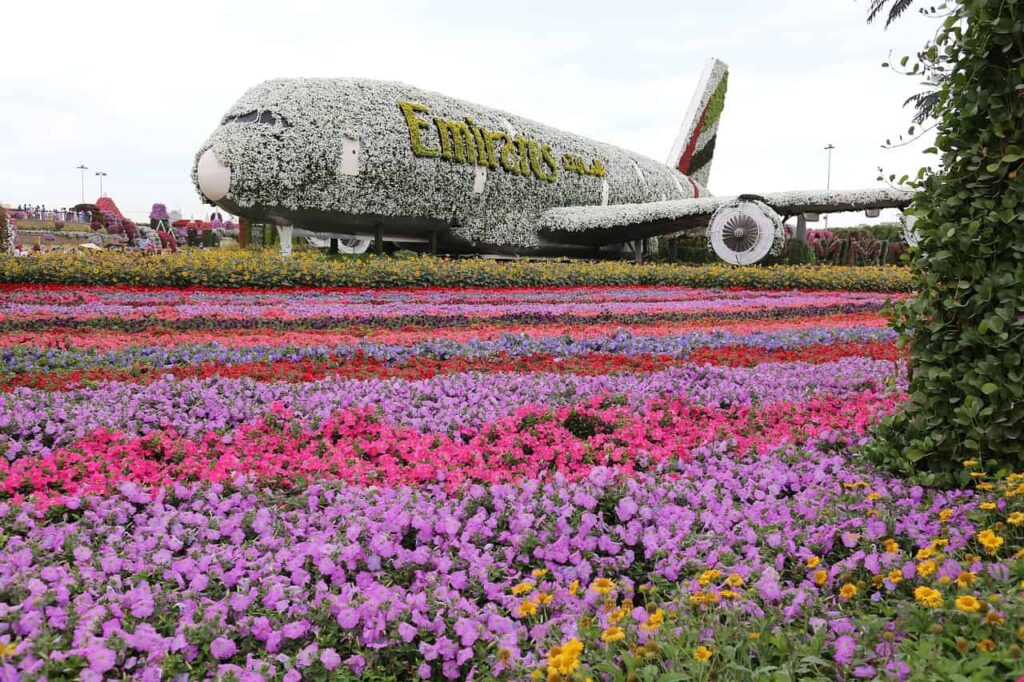 You have to see it to believe that this attraction exists and is not just a mirage. Dubai Miracle Garden is a feat that Dubai has proudly created with innovative planning and reuse of resources.
The garden is the world's largest natural floral garden and has more than a million blooms of various plants molded into fascinating installations. Dubai Miracle Garden is a seasonal attraction and is one of the most vibrant and picturesque attractions to visit in Dubai.
8: Global Village
Dubai is a place that values multi-ethnic culture and people from all over the world love visiting the emirate. However, at Global Village, you can view the whole world in a nutshell.
A variety of culture, entertainment, and food awaits at this colossal multi-national culture fest that takes place in the winter months in Dubai. You can go destination hopping, getting a glimpse of the best of the world's splendors in one place.
It is boasted to be the world's biggest cultural tourism event and is a delight to experience with family and friends.
9: Dubai Desert Experiences
In the days before Dubai became a global city, it was just a barren desert with a few modest village settlements. Today, the city is still surrounded by a vast desert landscape, providing the opportunity for fantastic desert safari adventures.
The undulating golden dunes are perfect for dune bashing and quad biking activities. For mild adventurers, hot air balloon rides or camel rides are perfect and soothing ways to enjoy a desert trip in the morning. Sunsets and barbecue dinners are quite popular activities to look forward to on a desert trip, as are the traditional folklore and folk costumes.
You would never have imagined deserts could be so entertaining!
10: Palm Jumeirah
Palm Jumeirah definitely deserves to be on the list of top ten places to visit in Dubai. This artificial island made international news as Dubai was successful in creating one of the biggest manmade islands in the Persian Gulf with a fully functional commercial, recreation, and residential development in place.
It is today one of the most famous places to visit in UAE and offers some of the best attractions and experiences the city has to offer. Atlantis the Palm Dubai stands majestically and luxuriously in its center, right on its outer crescent. Located nearby, you can enjoy fun and exhilarating water adventures at Aquaventure Water Park.
Numerous attractions can be found on this palm-shaped island, such as the largest water fountain in the world – Palm Fountain and a breathtaking dolphin and sea lion encounter spot. This island is also popular among water sports enthusiasts due to its proximity to the Persian Gulf and holds the tag of being one of the most scenic drop zones for skydiving experiences.
From all over the world, skydivers rank this adventure as one of the best due to the bird's eye view of the island and the freefall thrill.
So, this was our list of the top 10 best places to visit in Dubai, UAE. If you have any other suggestions which can be added to this, please feel free to drop them in the comments below.
#crazywanders 😉🤘