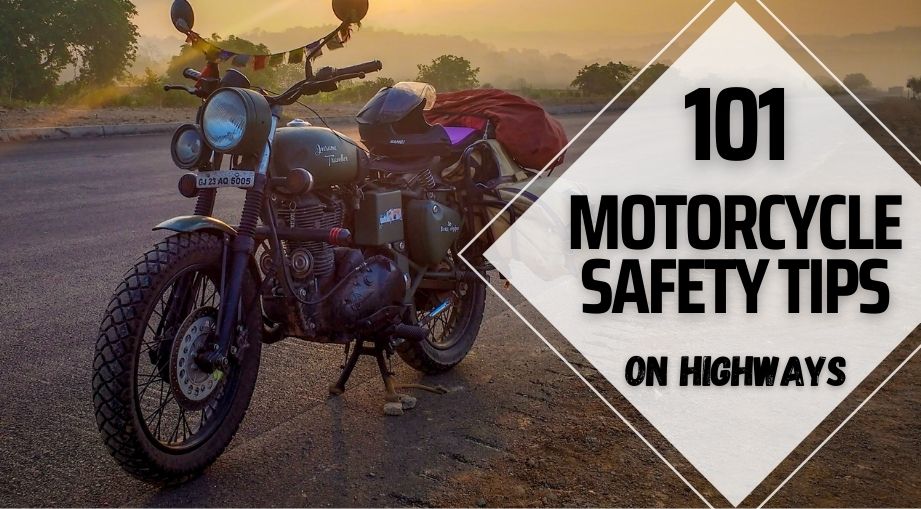 Do you love the highway rides?
Well, if you have clicked this post then I believe you do. I love riding on my motorcycle on highways especially when I ride towards the mountains.
Being a traveler, we all love long trips. But, very few take safeties seriously while they ride on highways.
Remember, you should never ignore it.
We do get excited when we put our bikes on highways and try to exceed our limits sometimes. As you know, riding on highways on a motorbike in India is not easy.
So, be extra careful.
But this doesn't mean that you should drop your plans. Instead, you should keep some safety tips in mind before you throttle your bike or superbike.
Let's dive into some motorcycle safety tips I have listed for you to make your bike trips amazing and worry-free.
1: Check your bike thoroughly before leaving
This is the basic tip for every rider. Before you leave for your awesome trip, you should always check your motorcycle thoroughly.
This includes tyre pressure, petrol, suspensions, breaks, and other basic mechanisms in your bike. Also, consult with your bike service guy to test your bike.
Once you share your plan with him and get a go-ahead, you are good to start your amazing trip.
2: Understand the highway lanes, signs, and rules
When you are on road, you see a lot of signs, symbols, and markings on the road or beside the road.
You should know their meaning and the protocols you need to follow when you see such signals. Learn the basic road rules which you can easily get on Google or here.
You should also understand different lane marking on the highways which will help you in making the right navigation decisions.
For example, the broken white line gives you permission to change lanes or overtake while a continuous white line restricts to do so.
3: Never follow a truck/car or other heavy vehicles blindly
I must say, this is one of the common mistakes most riders make. While you are on a highway, never drive your motorcycle right behind a four-wheeler. This also implies driving at their blind spots.
This is because when you drive on a highway, there are chances you see many dead animals or other obstacles lying on the road. These four-wheelers can easily get over them but you may lose your balance or control when you suddenly see them.
Also, a sudden breaking of the vehicle ahead you can result in a major accident.
4: Zig-Zag position while riding in a group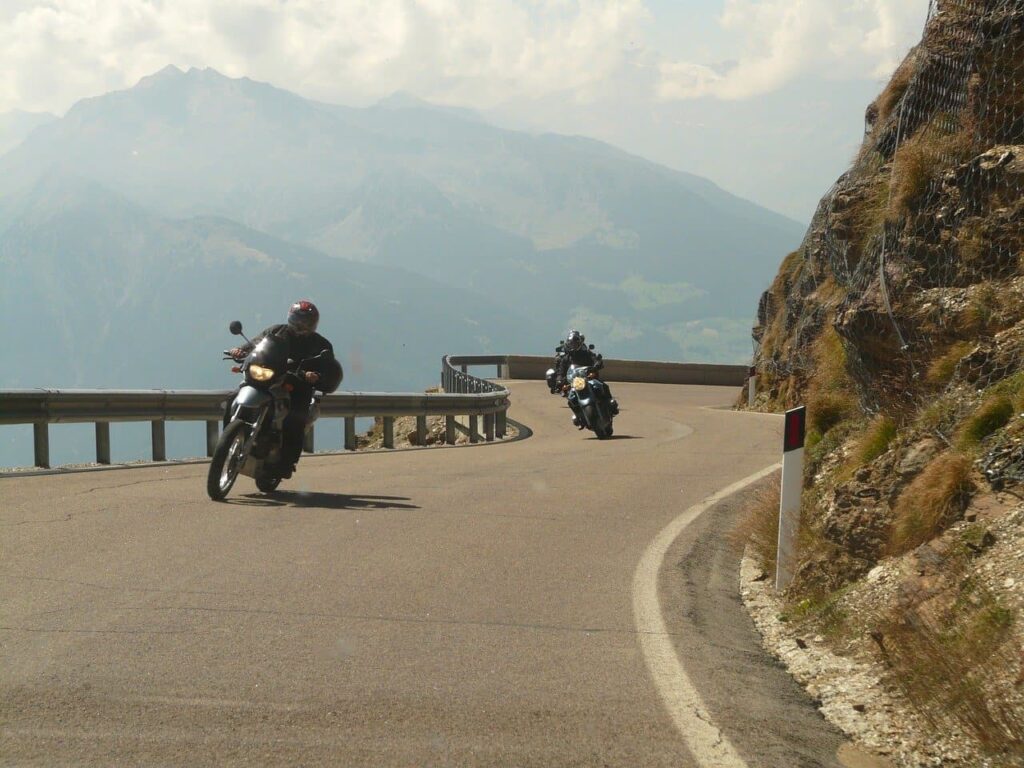 We all love riding in a group.
Right?
When several bikes are involved in a ride, a common mistake we usually make is when we ride behind each other.
This position should be avoided because you never know when the person in front of you can apply breaks.
So, always drive in a zig-zag pattern while riding in a group.
5: Extra careful with the animals on the road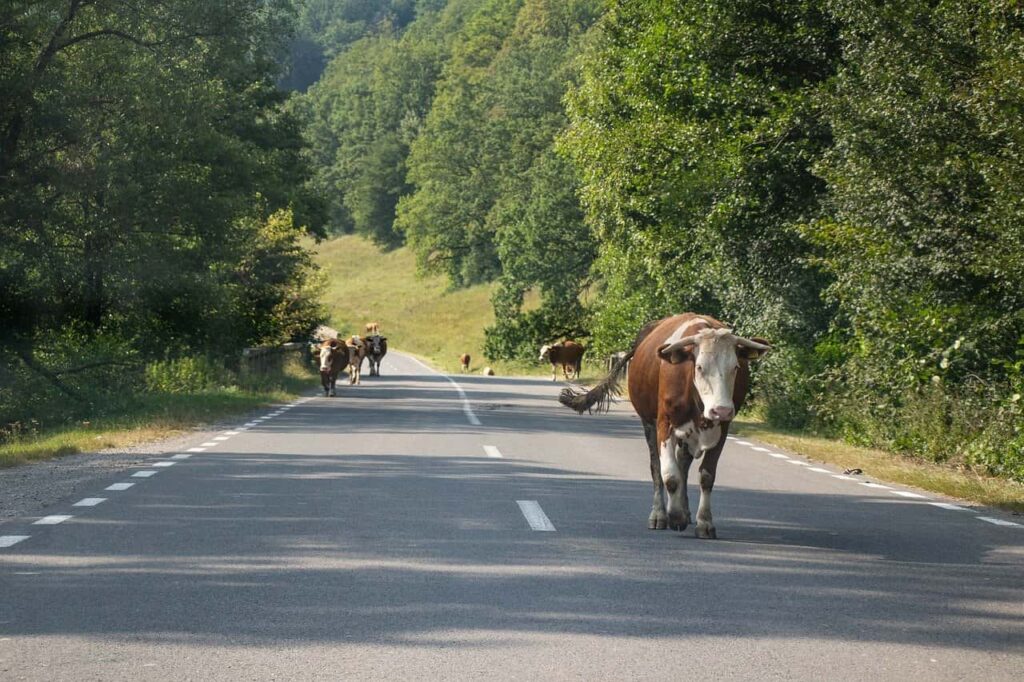 If you have been riding on Indian roads then you must be aware of the animals you see on the roads.
Whenever you are passing through a village on a highway, keep your speed slow as there are chances of domestic animals like cows, sheep, goats, etc to be on the road.
One tip for passing through them is to always cross them from behind because that's safer than coming in their path.
6: Stick to your side
I love my side. Do you?
Yes, I know this is a very normal point to be included in this list. But, believe me, sometimes we forget this simple rule.
There are situations when I have seen people riding on the other side of the road and results in a major accident.
This is very common when you are riding on highways without a divider on them or especially on the hills. So, always drive on your side of the road.
7: Proper Riding Gear
When I think of safety on a motorcycle, the very first thing that comes to my mind is proper riding gear.
Remember, I am not speaking about some casual city rides here but, some serious highway rides where you travel 500+ KM per day.
So, never compromise with your riding gear while planning a highway trip.
Some essentials include Helmet, Rider Jacket & Trousers, Riding Shoes, Gloves, and more.
8: At night, avoid direct contact with headlights
It is very risky for a bike rider to drive on a highway at night.
Especially if you are a beginner and just started your long trips, I would suggest you to avoid riding at night.
But still, if you want/have to go on a night trip, I would suggest you never see directly into the light coming from the vehicles from the other side.
Instead, either look below on the road in front of you or the vehicle behind that vehicle.
This way, you wouldn't lose your sight and comfortably pass through them.
Braking is a crucial point when it comes to safety while bike riding.
9: Braking
You must check your brakes and be comfortable with them before you start your highway ride.
Braking is an art that you should master if you want to be an expert rider.
I recommend you use your front brake the most while you are on a normal road to stop the bike. But if you are on a road with dirt or slippery road, always use rear brakes.
Simply understand the road and your wheels' situation and apply brakes accordingly.
These days, most of the bikes are coming with the ABS (Antilock Braking System) technology. This lowers the chances of your bike to skid when you apply sudden brakes.
10: No Neutral on Downhill
Most people make the mistake of setting their bikes on neutral gear while riding downhill.
This is a very risky approach. You lose control of your bike and brakes.
You should use the same gear you used while going up to keep control of your bike and engine power.
Also, remember not to use too many brakes while on the downhill. This results in the heating of your brake pads that may lead to brake failure.
11: Water Crossing
When you are on your mountain trip, you will pass through a lot of small/big water crossings.
The very first rule is to never cross them in speed. Always go through them slowly and steadily.
This is because you never know the depth of water, the size of stones, or the mud underneath. The stones can easily harm your engine or your bike can skid in the mud or on rocks.
12: Don't Panic when you lose control
Patience and calmness are very crucial elements for a highway rider. There are situations when we lose the balance of our bike. This happens especially when you are off-roading.
What do you do at that moment?
Well, a simple solution is to not panic and let your bike go down slowly on the ground. Never struggle to keep it up if you have lost control. Because if you do, you will lose a lot of crucial energy and end up being exhausted for the further trip.
13: Never get provoked by others
Gearing up doesn't mean that you are always ready to race. That's for your safety not a symbol of a high-speed maniac.
But people won't understand it easily. At times, they will provoke you to race. Never push your limits. Always maintain your safe speed so that you can easily control your bike in any situation.
Not only other people but your group has someone always ready to instigate others in the chase game. Keep your calm and take wise decisions for your and others' safety.
14: Take your food carefully
I know this is tough for many. For me too 😅
While you are riding on highways, you will see a lot of delicious food corners everywhere in India.
Being a Punjabi myself, it's difficult to hold my appetite but you have to be extra careful. Eating new cuisines or dishes can create trouble for your stomach.
This way you end up ruining your amazing highway ride. So, I suggest you never experiment with your diet at this point.
Pro Tip: Never carry stress while on your ride
This last tip is very important for every rider no matter you drive on highways or on a local ride. Never carry any kind of burden or stress on your trip.
If your mind is continuously diverted to other life problems, you may end up your trip in trouble.
Or simply, you won't enjoy it.
I ride to relax my mind as this an amazing way to connect to your soul. Trust me, never timebound your trip and go with the flow.
Remember, the Destination is not important, but the Journey is.
FINAL WORDS
Riding on a motorcycle is adventurous. And, adventures come with risks. Right?
You should always be attentive and take proper safety measures while riding, especially on highways. I hope the tips listed above would help you in your next ride.
The most important thing is to be focused while riding and handle the situations calmly.
If you have some more tips to share with the community, you can put them in the comments box below.
Also, when was your first long highway travel, and where did you travel? I would love to hear your travel stories.
You can also share your amazing travel stories with #CrazyWanders community and get a chance to be featured. Click here to share a crazy travel story.