India is a vast country with a variety of cultures and geography every travel wants to explore and experience. Today we are talking about the top 10 places every traveler should visit in north-east India.
This region consisting of 7 Indian states also called the Seven Sisters of India is an amazing place with some eye-catchy locations. It's an ideal trip for nature lovers and those who want to get away from the chaos to relax and find true peace.
Let's check out the 10 beautiful places of north-east India:
1: Majuli, Assam
Majuli is the largest freshwater island in the world. It's a piece of 1250 sq. km land in the Brahmaputra River in Assam. The greenery of this freshwater island and a pollution-free environment makes it one of the best travel destinations in north-east India.
Majuli has a unique and interesting culture taking it to a place to be a strong contender of UNESCO's World Heritage Sites all thanks to its local tribes. It also has another title called the cultural capital of Assam.
The best time to visit Majauli is in Winters (October – February) or Monsoon (July – September) if you love the rain
Best places to see in Majuli:
– Kamalabari Satra
– Dakhinpat Satra
– Garmur
– Tengapania
– Auniati Satra
2: Champhai, Mizoram
Champhair is a very beautiful town situated close to the Indo-Myanmar border in Mizoram. Vast valleys of rice fields and Mesmerizing natural settings make it a perfect destination for nature lovers. You will find peace and purity in the air with some breathtaking views all around you.
Romance is also not far away as its vibrant seasonal orchids give you plenty of time to blossom some love that is hiding inside you. You can also experience some adventure by going for trekking and indulging in other adventure activities.
The best time to visit Champhai is all around the year due to its temperate climate. It is advisable to avoid visiting this place during Monsoon (June – September) because it rains heavily in these months.
Best places to see in Champhai:
– Rih Dil
– Murlen National Park
– Lengteng Wildlife Sanctuary
– Kungawrhi Puk
– Thasiama Seno Neihna
3: Pelling, Sikkim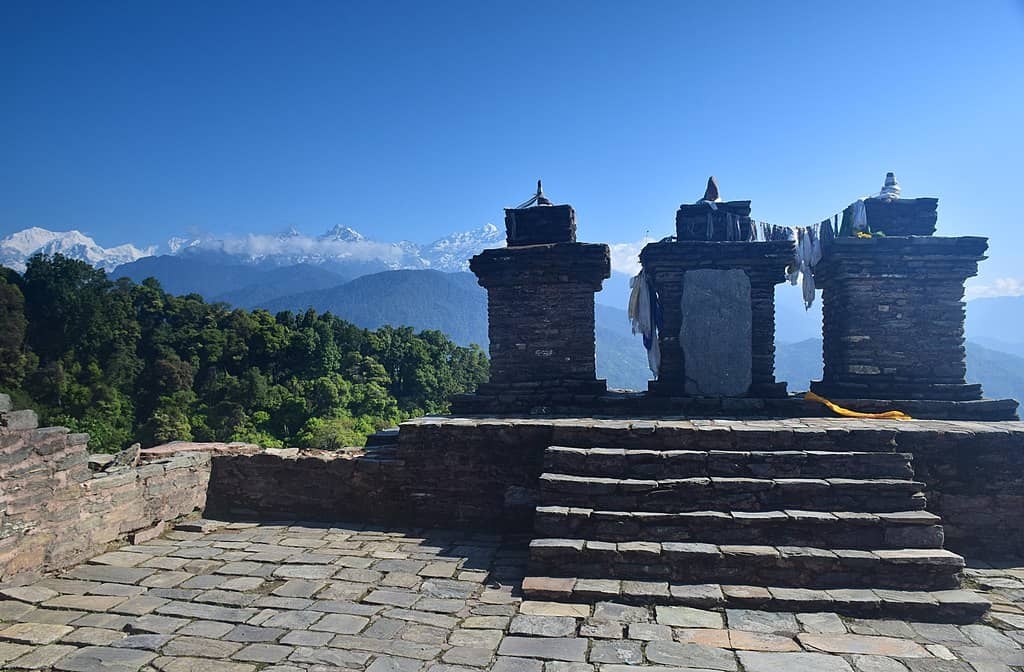 Pelling is located on the western side of Sikkim at a height of 6800 ft. It attracts travelers and nature lovers from all around the world. It is the second-biggest travel destination in Sikkim after the capital city, Gangtok
You can enjoy rock climbing, mountain biking, village tours, meditations, trekking, and much more in Pelling. Breathtaking sights and the peaks are worth watching. The name 'Peeling' originated from the mixture of two old Buddhist monasteries (Pemayangtse and Sangacholing) between which this petite town is situated.
Like many other hill stations, Peeling is also open to visitors throughout the year. However, the best time to visit Pelling is from March to June in summer and October to February in winter. Avoid this place in Monsoon season.
Best places to see in Peeling:
– Sangachoeling Monastery
– Pemayangtse Monastery
– Rabdentse Ruins
– Darap Village
– Rimbi Waterfall
4: Ziro Valley, Arunachal Pradesh
Ziro is a census town and home to the Alpha Tani tribe in Arunachal Pradesh. It is one of the oldest towns in the state located in the Lower Subansiri district. The duo of rice fields and the pine-clad gentle hills make this place amazing.
The cool breeze in the summers and a balmy climate attracts a lot of travelers to the Ziro Valley. This place is a paradise for those seeking peace and calmness. This place also holds a place in India's tentative list for UNESCO's World Heritage Site.
The best time to visit Ziro Valley is between March and October. The pleasant climate and cool weather make it an escape door from heat and chaos. You can also visit it early Winters from October to November to experience the white sheet of snow spread all around yourself.
Best places to see in Ziro Valley:
– Tarin Fish Farm – Paddy cultivation
– Kile Pakho
– Talley Valley Wildlife Sanctuary
– Meghna Cave Temple

5: Ravangla, Sikkim
Ravangla is a small town situated in the southern part of Sikkim at a height of 8000 ft. It witnesses some of the best views of the rolling valleys marked with village huts and high-forested hills. Apart from these views, the snow-covered peaks are the main attraction of this town.
You can clearly see Kanchenjungha along with its sister peaks of Kabru, Sinialchu, Pandim, and many others from Ravangla. If you want to see majestic snow mountains, the exotic flora and fauna in thick forest, scenic tea gardens, waterfalls, ethnic culture, peaceful villages, fresh atmosphere, old monasteries, and rich natural diversity, then this place is worth a visit.
The best time to visit Ravangla is during August and September. You can also enjoy the Pang Lhabsol festival during this period. Even though you can visit this place throughout the year, but it is advisable to avoid it during extreme winters.
Best places to see in Ravangla:
– Buddha Park
– New Ralang Monastery
– Old Ralang Monastery
– Ralong Hot Water Springs
– Rayong Sunrise Viewpoint
6: Shillong, Meghalaya
Shillong means "The Abode of Clouds". It is a hill station and the capital city of Meghalaya. The beautiful pine trees are spread across the city that is standing at a height of 1520 meters. The soothing climate, traditions, and its picturesque sights make it a perfect destination for travelers.
You can see the descendants of the Mylliem, Mallaisohmat, Khyrim, Maharam, Langrim, and Bhowal tribes. Nature lovers will find this place no less than heaven because it's home to exciting mountain peaks, numerous waterfalls, and crystal clear lakes. Breathtakingly beautiful golf courses, zoo, and museums are also worth a visit.
The best time to visit Shillong is from September till May. You should avoid this place during monsoon (June – August) as this place receives heavy rainfall during this season.
Best places to see in Shillong:
– Umiam Lake
– Elephant Falls
– Police Bazar
– Don Bosco Museum
– Mawlynnong
7: Tawang, Arunachal Pradesh
Tawang is a famous travel destination situated at a height of about 3048 meters in western Arunachal Pradesh. It is popular among those who love to experience peace and see beautiful Buddhist monasteries.
Tawang is also an important place especially for Buddhist monks because it is the birthplace of the 6th Dalai Lama, Tsangyang Gyatso. The scenery of this wonderful land will make your trip worth it. The scent of spirituality along with the natural beauty of Tipi Orchid Sanctuary and orchid sanctuary cannot be expressed in words.
The best time to visit Tawang is between March and September. Both summer and monsoon season is good if you want to enjoy nature and roam around the monasteries. Avoid this place in winters if you don't want to freeze.
Best places to see in Tawang:
– Sela Pass
– Tawang Monastery
– Madhuri Lake
– Nuranang Falls
– Tawang War Memorial
8: Haflong, Assam
Haflong is the only hill station you will find in Assam. It's a beautiful town and headquarters of Dima Hasao district. In Dimasa language, Haflong means ant hill. This is a perfect travel destination for nature lovers with some breathtaking and picturesque views.
You can experience the beautiful and rich Assamese culture along with tranquil ambiance, rich wildlife, and green rolling hills all in one place. Haflong Hill is one of the famous attractions that appeal to a lot of travelers.
The best time to visit Haflong is throughout the year due to its subtropical climate. If you want to see nature at its best, we recommend you to make your plans during winters.
Best places to see in Haflong:
– Haflong Lake
– Haflong Hill
– Maibong
– Jatinga
– Panimoor
9: Dzukou Valley, Nagaland
Dzukou Valley is an amazing place located on the border of Nagaland and Manipur state. You will find here some of the best landscapes in Asia. Dzukou Valley gives you solid proof of why Nagaland is called the 'Switzerland of the East'.
Dzukou Valley is an ideal place for trekking enthusiasts. It is also famous for its seasonal flowers, natural environment, and beautiful flora and fauna. This place is also called the 'Valley of Flowers of East'. So you will find a panoramic view of the enchanting valley with flowers in full bloom.
The best time to visit Dzukou Valley is from June end till September. This is the time you will find the greenery all around the place with flowers all around. Make sure you pick up some woolens as nights are a little chilled.
Best places to see in Dzukou Valley:
– Japfu Peak
– Kohima War Cemetery
– Naga Heritage Village
– Kohima Museum
– Intanki Wildlife Sanctuary
10: Gangtok, Sikkim
Gangtok is the capital city of Sikkim state. This is one of the popular hill stations in India at an elevation of 1650 m. Blooming wild Rhododendrons, pleasantly boisterous, and wreathed in clouds will make you feel no less than paradise. This beautiful hill station is a perfect blend of nature, cultural identities, and urbanization.
Gangtok also serves as a one-stop destination for adventure enthusiasts including campers to the Himalayan mountain ranges and trekkers. Also, you can easily see Mt. Kanchenjunga from there on a bright sunny day. You can explore lake, monasteries, and peaks all around the Gangtok.
The best time to visit Gangtok is from March to May and the late of September till mid-December. You should avoid visiting Gangtok (or Sikkim) during monsoon due to heavy rainfall and landslides in many regions.
Best places to see in Gangtok:
– Rumtek Monastery
– Tsomgo Lake
– Reshi Hot Springs
– Seven Sisters Waterfalls
– MG Road, Gangtok
So, the seven sisters of India are less explored travel destinations but have some amazing sights and views to attract travelers around the world. I hope you find this post informative and interesting enough to inspire your next trip to beautiful north-east India.
If you have been to any of the destinations above, don't forget to share your amazing travel stories with us in the comments below or you can submit your story here.
#KeepTraveling 😉